NOTICE | COVID-19 Coronavirus Campus Events Update
All on-campus MMA events have been postponed at this time. We are transitioning to virtual events when possible. Please see individual event listings for details.
Mariners Athletics Event Calendar
Nov 10 @ 9:00 pm – 11:00 pm
9:00 pm
The Maine Maritime Academy College Republicans will be streaming the fourth Republican Presidential Debate. The event is open to everyone! There will be pizza provided! Read More...
Sep 18 @ 6:00 pm – 8:30 pm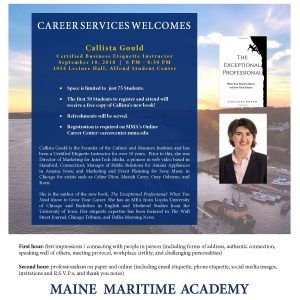 6:00 pm
Career Services presents Callista Gould who will speak on Tuesday September 18th at 6:00PM. She is a certified business etiquette instructor. Space is limited so you must sign up for the event:careercenter.mma.edu. The first 50[...]