NOTICE | COVID-19 Coronavirus Campus Events Update
All on-campus MMA events have been postponed at this time. We are transitioning to virtual events when possible. Please see individual event listings for details.
Mariners Athletics Event Calendar
Oct
2
Fri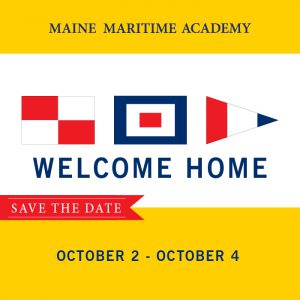 In the interest of protecting our extended Maine Maritime Academy community during the COVID-19 pandemic, MMA Homecoming 2020 has been cancelled. Homecoming 2020 was scheduled for October 2-4, 2020.
"We always look forward to our alumni returning to campus for Homecoming festivities, but due to the ongoing health and safety concerns surrounding COVID-19, we must make the difficult decision to cancel it this year," said President Brennan. "We share your disappointment at its cancellation and look forward to connecting with alumni in person very soon."
We encourage Alumni to stay connected with one another, submit alumni news and/or class notes, and provide your career updates.
More details will follow as we explore ideas for virtual events. If you have any suggestions or questions, feel free to contact the Alumni Office at alumni@mma.edu or 207-326-2337.