Maine Maritime Academy will host the 10th Annual Women on the Water Conference, in partnership with the Maritime Administration (MARAD) on November 1-3, 2018.
Join us in Castine for this three-day event which will provide attendees with the opportunity to meet with and learn from industry leaders, maritime professionals, and fellow students and academy representatives. The conference is a great networking opportunity for mariners at all stages of their career. This year's theme is "Choose Your Heading," and we look forward to welcoming many of our maritime colleagues to campus!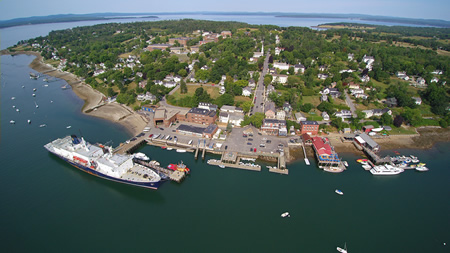 Sponsorship Opportunities: we welcome your support! Levels range from $100 to $3000.
Registration: The conference registration fee is $200 and includes all meals from Thursday's reception through Saturday breakfast and the optional excursion to Acadia National Park.  The registration fee is waived for current students of the maritime academies. Note: Registration for the conference is now closed. Please contact Elizabeth True at 207-326-0159 or elizabeth.true@mma.edu if you have any questions.
Schedule: the conference will officially begin with a welcome reception on Thursday, November 1 at 5:30 pm and end with a breakfast speaker on Saturday, November 3. An optional excursion to nearby Acadia National Park and Bar Harbor is planned for the remainder of the day on Saturday.
Travel: Maine Maritime Academy is located in the village of Castine, a picturesque town that overlooks the harbor and nearby islands on the Maine coast. Driving here by car takes approximately one hour from Bangor and Belfast, and 40 minutes from Ellsworth. The closest airport is Bangor and MMA will run shuttles from the airport to campus and back on Thursday through Sunday. Conferees might also consider flying into Portland and renting a car for the three-hour drive up the coast. Click here for more information on the Castine area, a map, and directions.
Lodging:
On Campus:
Students will be housed aboard the Training Ship State of Maine in double-occupancy cabins.  Linens are provided.
A limited number of guest rooms are available on campus. Reserve by calling Conference Services at 207-326-2283 or email Rachael Iannoli.
Off Campus:
Blocks of rooms have been reserved until Oct. 15th at special WOW rates at: (Please contact the hotels directly to make your reservation and mention the WOW conference.)
Please contact Elizabeth True, Vice President for Student Affairs and Enrollment Management by phone at 207-326-4311 or by email at elizabeth.true@mma.edu for questions specific to the event.