Online Donation
Please complete the form below to make an online donation to Maine Maritime Academy.
Current/Upcoming Challenge Events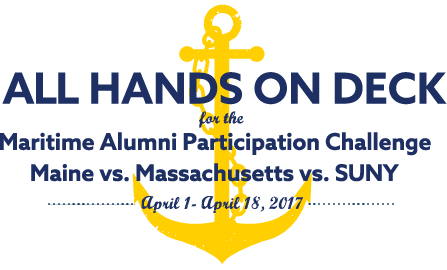 Every gift has been counted, and you did it. We are proud and excited to announce that Maine Maritime Academy has won the Maritime Alumni Participation Challenge!
The Maritime Alumni Participation Challenge ended at midnight and we not only won, we broke our record of more than $65,000 in gifts raised! We also accomplished that in only 18 days (as opposed to the 30 days in years past).
You showed that MMA could lead the way from day one of the Challenge, and now we're the winners of bragging rights and the pride of being #1 again this year. Every gift counted, and you rose to the Challenge.
We've always believed we were the best, but this is another way that we can be proud to say, We Are Mariners! Mariners Forever.
Here are the final statistics for the three participating institutions:
Final Stats / Participants / Percent
---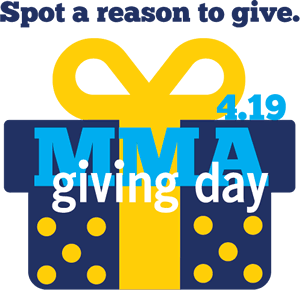 Giving Day is a chance for those closest to the college—faculty, staff, and students—to support the mission of the school and show the greater community that we care.
We did it! Giving Day was a great success and we had more than enough participation to secure the generous anonymous alumnus $10,000 bonus gift. Thank you to everyone that participated.
---
Gifts to the Annual Fund are directed towards the greatest need and give MMA the flexibility to take advantage of emerging opportunities and to respond to unanticipated needs. If you would like to target an area of focus for your gift, please designate as 'Other' and note your area of focus, such as an academic program, an athletic program, or financial aid.
Thank you for your interest in supporting Maine Maritime Academy.
If you have any questions or would like to make a pledge, please contact Leah Bishop at 207-326-2223 or by email at leah.bishop@mma.edu.