Student Profile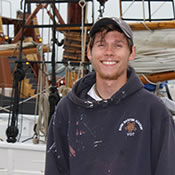 Nate Perkins-Fields '17
Hometown: Bucksport, ME
Major: Vessel Operations and Technology
Extracurricular involvement: Schooner Crew, Yacht Club
What has been your favorite class at MMA?
Small Craft Technology Lab.  We were able to strip down a diesel engine to learn about the inner workings and parts, then we were required to put it together again in running, working condition.
What do you love about the MMA community?
MMA is both a small and large school. While I have met and am friends with more people than I can count, I still meet new people every day. At MMA you can find niches where you can do things that keep you interested and happy with your choice to attend school here.
What are your hopes for the future?
I hope to complete my schooling and begin work on the water. After I begin my career, I hope to be able to travel and also continue my education later in life.
Why did you pick MMA?
I have always loved being on the water, and by attending MMA I can continue my love for boating! Having grown up only 20 minutes away, I have innumerable resources close by.
What would you say to a prospective MMA student?
Come visit and see what MMA has to offer! There are multiple programs that you could enroll in that cater to many different interests. If you want to be trained hands-on in your profession and get a good, steady job right out of the gate, MMA can't be beat!