Student Profile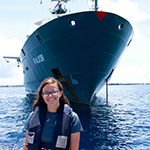 Julianna Diehl '17
Hometown: Philadelphia, Pennsylvania
Major: Marine Science; Small Vessel Operations
Extracurricular involvement: Yacht Club, SCUBA, Power Crew

What has been your favorite class at MMA?
Intro to Marine Science was the class that confirmed for me that I was in the right school with the right major. The first week of school we were working on the RV Friendship, utilizing a variety of scientific equipment available to us. It usually isn't until graduate school that most students studying Oceanography get the opportunity to be a part of a scientific cruise, so having our own research vessel available for a majority of our science classes really stood out to me.
What do you love about the MMA community?
My high school was very large, with about 1,000 kids in my graduating class. At MMA class sizes are almost always small, with labs generally being even smaller. I never expected to prefer going to a smaller school, however the small classes ensure a unique relationship with teachers. I found that I perform better knowing that my teachers our rooting for our success, both academically and personally.
What are your hopes for the future?
When I graduate, I hope to work on a research vessel as a marine technician. As a marine tech, I will be part of the ship's permanent crew and frequently get to go to sea, however I will still be able to closely interact with the science being conducted. I find it to be the perfect compromise of my Marine Science/SVO dual major.
Why did you pick MMA?
I picked MMA because of the major (the only one offered in the US) as well as all the opportunities that are available to students. In the fall, I practice ship handling at Supplemental Seamanship, an extra course in which students have the opportunity to learn from other students and practice docking, towing, sailing, and safety drills. In the winter, when the ships are being put away, we move into the simulator and practice there. In addition, the Scuba program at MMA is top notch, with classes ranging from open water classes to dive master. Within two years I was able to go from open water to master diver with a scientific diving certificate. These extracurricular activities look great on a resume and will set you apart when applying for internships, coops, and jobs.
What would you say to a prospective MMA student?
Definitely visit the school and see what MMA has to offer! If your interests align with the majors being offered at the Academy, the education you'll receive is absolutely top-notch. The hands-on job training, variety of extracurricular activities, and percentage of job placement after graduation sets this school apart from the others.