Student Government Association
Maine Maritime Academy's Student Government Association (SGA) is an elected body that represents the students of MMA according to the SGA Constitution. SGA represents the student body regarding any issues or concerns and works to ensure the rights of the students are upheld in accordance with Maine Maritime's mission statement and purpose. SGA strives to promote the social and personal growth, as well as the general welfare, of the student body. The Student Government is comprised of an executive board, class officers and various senators that represent the academic areas and characteristics of the student body and their community. All full time students at MMA are encouraged to attend open student government meetings and to participate fully in their proceedings.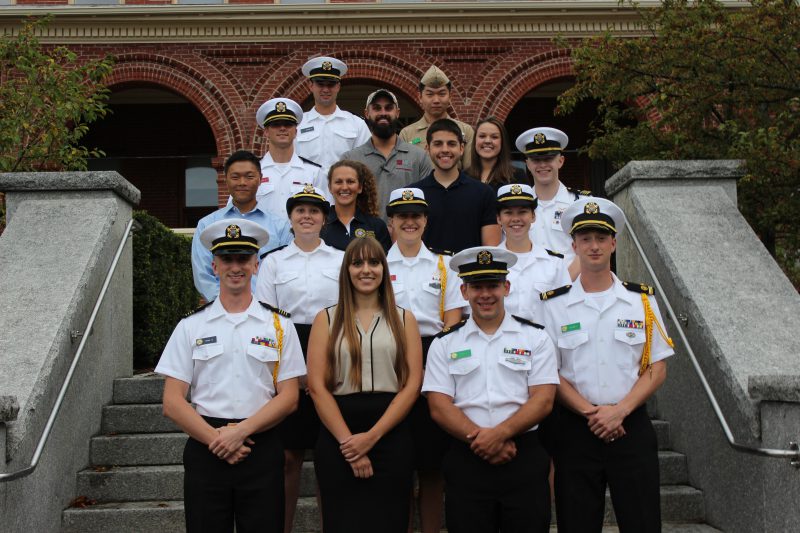 (Pictured left to right) First row: Matthew Fendl (Student Trustee), Anastasia Wright (Treasurer), Rylee Knox (President), Truman Slocum (Vice President of Administration). Second row: Kristine Mehuren (Deck Senator), Julia Dillon (Residential Senator), Mary Shea (Secretary). Third Row: Nathaniel Fiske (Ocean Studies Senator), Heidi Marriner (Senator-at-Large), Grafton Page (Independent Senator), Erin Donlon (Philanthropic Senator). Forth Row: Jack Weeks (Class of 2019 President), Michael Libby (Off-Campus Senator), Cristin Wright (Class of 2017 President). Fifth Row: Michael Granger (Regimental Senator), Edison Ma (Past President). Not pictured:  Thomas White (Vice President of Student Involvement), Olivia Burke (Business Senator), Class of 2018 Representative, Athletics Senator (Vacant), Engineering Senator (Vacant), Class of 2020 Representative (Not yet elected).
The SGA office is located on the lower level of the Student Union across from the Student Mailroom and office hours posted on the door.  Please know hours are subject to change without notice. For more information about SGA please contact us at sga@mma.edu.
SGA Open Meetings:
Full SGA meetings are typically held at 4:00PM in the 1954 lecture hall in the Alfond Student Union during the second and fourth week of each month during the Academic Year. Please visit the SGA office for a current listing of open meeting dates.
 2016-2017 SGA Executive Board
President: Rylee Knox – Office Hours: Monday 1500-1700, Tuesday 1500-1600, and Friday 0900-1400
VP of Administration: Truman Slocum – Office Hours: Tuesday 1300-1500 and Wednesday 0800-0900
VP of Student Involvement: Thomas White- Office Hours: Tuesday 0900-1300, Wednesday 1400-1600, and Thursday 0900-1400
Secretary: Mary Shea
Treasurer: Anastasia Wright- Office Hours: Monday 1000-1100 and 1300-1500
Student Trustee: Matthew Fendl – Office Hours: Friday 1400-1700
Past President: Edison Ma
2016-2017 SGA Senate
Engineering Senator:  VACANT
Deck Senator: Kristine Mehuren
Ocean Studies Senator: Nathaniel Fiske
International Business Senator: Olivia Burke
Athletics Senator: VACANT
Regimental Senator: Michael Granger
Independent Senator: Grafton Page
Off-Campus Senator: Michael Libby
Residential Senator: Julia Dillon
Philanthropic Senator: Erin Donlon
Senator at Large: Heidi Marriner
Freshmen Representative: Class officers to be elected in the Fall 2016 semester.
Sophomore Representative: One of the 4 class officers to represent the class at all meetings.
Junior Representative: One of the 4 class officers to represent the class at all meetings.
Senior Representative: One of the 4 class officers to represent the class at all meetings.
2016-2017 Action Fund Deadlines
Hearing 1
Application Deadline: September 20, 2016 at 5:00 p.m., Student Government Association Office
Hearing Date: September 21, 2016 from 4:00 p.m.-5:00 p.m., 1954 Lecture Hall
**Events funded during this hearing must be completed by November 16, 2016
Hearing 2
Application Deadline: October 18, 2016 at 5:00 p.m, Student Government Association Office
Hearing Date: October 19, 2016 from 4:00 p.m.-5:00 p.m, 1954 Lecture Hall
**Events funded during this hearing must be completed by February 10, 2017
Hearing 3
Application Deadline: January 31, 2017 at 5:00 p.m., Student Government Association Office
Hearing Date: February 1, 2017 from 4:00 p.m.-5:00 p.m., Davis Classroom (Alfond Student Union)
**Events funded during this hearing must be completed by April 7, 2016
Hearing 4
Application Deadline: February 28, 2017 at 5:00 p.m., Student Government Association Office
Hearing Date: March 1, 2017 from 4:00 p.m.-5:00 p.m., Davis Classroom (Alfond Student Union)
**Events funded during this hearing must be completed by May 5, 2016