News & Events
Third Row:  Kirk Langford, Kealoha Higgins, Mason Whitaker, Liam Pitchford, Jen Burton, Mikayla Charters, Mackenzie Vosburgh, Andrew Hall
Second Row:  Thomas Anderson, Randy Moody, Megan McLean, Curtis Fortier, Allison Boulier, Sophie Theriault, Micaela Tanguay, Amanda Holewiak, Dayna O'Brien
First Row:  Joe Maier, Miranda McIntire, Sergio Irizarry, Curtis Guimond, Alexandra Bierman, Morgan Maxwell, Sam Billings, Carlos Velez Oses
Here are the proud Freight Transportation students who received Introductory Certificates for their work with the MercuryGate Transportation Management System (TMS). MercuryGate is one of the most widely used multimodal TMS in the freight industry. The students completed a fifteen module hands-on lab provided by MercuryGate as part of their LO 213 Course.
We at LSS IBL are always looking for opportunities to present relevant hands-on knowledge and skills to our students. Their working knowledge of a sophisticated TMS such as MercuryGate makes them stronger candidates for logistics and related careers upon graduation. Principles learned as part of this lab are generic and can be applied to other TMS systems as well.
Maine Maritime Academy and the International Association of Maritime and Port Executives Sign MOU for Certification
CASTINE, Maine—The Loeb-Sullivan Graduate School of International Business and Logistics at Maine Maritime Academy and the International Association of Maritime and Port Executives (IAMPE) have signed a Memorandum of Understanding agreeing to work together on professional development for the maritime and port industry.
Under the MOU, MMA and the IAMPE will acknowledge and endorse each other's programs, maintaining the highest professional standards of education and training. The IAMPE will provide a professional certification as Maritime Port Manager (MPM) to MMA students for successfully completing the graduate program. In essence, MMA graduate students will earn both the Master's of Science degree as well as the MPM certification. IAMPE members who independently complete the IAMPE certification can receive academic credit towards the graduate degree at MMA. The IAMPE will also share its research and electronic library with MMA as well as course content for the Maritime Port Management and Maritime Port Executive CertificationsTM. Both organizations will promote each other's programs to benefit professionals in the industry. They will work together to develop new programs and undertake research as appropriate to improve offerings to the global industry.
"We are very pleased to be working with Maine Maritime Academy in this important effort and look forward to expanding the professional development goals of both of our organizations," said Capt. F. Bradley Wellock, MM, CMPE, and Chairman of the IAMPE Board of Advisors.
"This is a great opportunity for the Master's degree logistic programs at MMA to provide additional value to our students as well as to contribute to education of maritime and port professionals worldwide. Working with the IAMPE will enhance our effort and commitment to advancing global standards in the maritime and port industry," explained Dr. Donald Maier, Dean of the Loeb-Sullivan School.
The Loeb-Sullivan Graduate School of International Business and Logistics at Maine Maritime Academy has two accredited M.S. degree programs: the On Campus experience in Global Logistics & Maritime Management and the Online M.S. degree in International Logistics Management, designed for the working professional. Both programs are similar in content, but are distinctly different in presentation. The Online program is 100% online with no requirement for campus residency, although all students can access the same instructional, support, research materials, and tools as the On Campus cohort.
The International Association of Maritime and Port Executives is a non-profit industry association that provides professional certification internationally for maritime and port professionals. The IAMPE offers professional development seminars in port management and operations, and executive management, and also has an ongoing continuing education program. The IAMPE provides industry recognized professional certification based on standards and review approved by the IAMPE Board. The Board is comprised of over 20 professionals from ports and maritime interests throughout North America.
"Our association with the Maine Maritime Academy is a great step in setting the gold standard for professional development and certification for industry professionals," said Capt. Jeffrey Monroe, MM, CMPE, Director of Education and Standards for the IAMPE. "The modern maritime and port industry must be managed by professionals with the highest standard of professionalism and education that can be provided, and we look forward to working with Dr. Maier and his outstanding staff in providing the industry with those opportunities," Monroe concluded.
For more information about the Loeb-Sullivan School of International Business & Logistics, please visit mainemaritime.edu/academics/graduate-programs. Maine Maritime Academy is a co-educational, public college on the coast of Maine offering 18 degree programs in engineering, management, science, and transportation. The college serves approximately 950 undergraduate and graduate students in career-oriented programs of study. Year over year, the job placement rate for MMA graduates is in excess of 90 percent within 90 days of graduation. In 2014 and 2015, MONEY magazine ranked Maine Maritime Academy the #1 Public College in America on their Best Colleges list. For more information, visit mainemaritime.edu.
For further information on IAMPE programs visit www.IAMPE.org
IBL Represented at the 8th Annual Supply Chain Management Summit
Thanks to Banneker Industries, Zachary Radcliffe (IBL 2016) was fortunate enough to attend the Supply Chain Management Summit for the second consecutive year.  Held in Rhode Island, the conference brings together supply chain industry executives and subject matter experts to learn about leading supply chain management strategies, share best practices, and network with colleagues. The experience has allowed Zach to network with industry professionals and to learn more about the expanding supply chain world. On-going career development is an important aspect in anyone's career and Zach plans to expand his knowledge by active involvement in industry associations. Zach is also a Scheel Scholar and completed two internships at BIW (Bath Iron Works).
The Summit includes numerous keynote addresses, a c-suite panel, and multiple breakout sessions designed to encourage in-depth discussion about some of today's most relevant supply chain challenges and solutions.
The featured guest speaker highlighted the 8th Annual Supply Chain Management Summit. Eugene Campbell is the Vice President of Supply Diversity at The Walt Disney Company. He discussed how one of the world's largest corporations handles their supply chain and its diversity.
Ahmed Sadayou, MMA/Saudi Ports & Logistics Seminar student sends video of  The King Abdulaziz University trip to Maine, USA
IBL student selected for MEHEFI Supply Chain Scholarship.
Robert Smart, an IBL senior at MMA, was selected as a repeat recipient for this prestigious industry award.The Material Handling Education Foundation, Inc. (www.mhefi.net) is an independent charitable organization that was established in 1976 with a mission to promote the study of material handling, logistics and supply chains by exposing students and educators to the industry through financial support. Since 1976, more than $2 million in scholarships and grants have been awarded to students at 77 colleges and universities. Forty-eight scholarships were awarded for the 2014/2015 academic term for a total of $174,114. Applicants must be full time students with a "B" average of better.

Robert Smart – Lift Manufacturers Product Section Honor Scholarship – $1500
NESCON 2014
Thanks to faculty support from Professor Jain and the generous support of the Student Business Logistics Association, the Student Government Association, and the Loeb-Sullivan School of International Business and Logistics, a group of nine International Business and Logistics students attended the New England Supply Chain Conference Expo. The conference was held in Marlborough, Massachusetts on October 6-7th. Attendees had the opportunity to listen to distinguished keynote speaker Jeffrey Carr, Corporate President and Economist, EPR and Clark Merrill, Dale Carnegie Global Master Trainer. Students also attended three of the eighteen workshops that were divided into six professional development tracks. Attendees networked with Supply Chain and Logistics professionals including Ariba, Atlas Travel, Proactis, and Unicorr, at the vendor booths. All had a great time, and the students were able to learn first-hand about the industry, and make connections with business professionals. NESCON is presented by the Next Generation Supply Chain Collaborative comprised of the Association for Operations Management (North Shore Chapter 20 • Boston Chapter 10), The Council of Supply Chain Management Professionals (New England Roundtable) and The Northeast Supply Management Group, A Special Interest Group of Institute of Supply Management.
Additionally, Hannah Sprague won the raffle for a new television!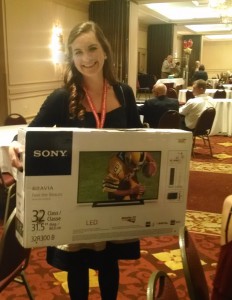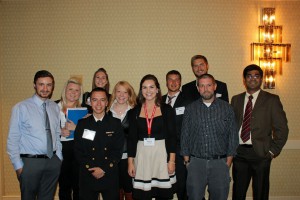 L-R (Front row) Alex Sharpe, Tyler Smith, Hannah Sprague, Shawn Cox
L-R (Back Row) Sarah Burgess, Haley Todd, Jordhan Dehlinger, Robert Smart, Neal Lofgren and Prof. Navneet Jain
MPBN Profiles Maine Maritime Academy for Maine Things Considered
MPBN reporter Tom Porter visited campus on Thursday, September 11th, and his profile of MMA aired the following Tuesday evening. It's titled, "Not Your Typical Four-Year College." …and the hits just keep on coming! You can listen to the radio broadcast here: http://news.mpbn.net/post/maine-maritime-academy-not-your-typical-four-year-college.
Radcliffe Awarded Supply Chain Scholarship
Congratulations to Zachary Radcliffe who was awarded a student scholarship award to attend the Supply Chain Summit in August 2014. Banneker Industries, a founder of the Supply Chain Management Summit, awarded scholarships to five undergraduate and graduate students offsetting registration fees and travel expenses to attend the 7th Annual Summit on August 21th, 2014 at Bryant University. The Summit is a one-day event that brings together industry professionals for in-depth conversations about challenges, trends, innovations, and successes in supply chain management. Zach, a junior in the IBL program and Mariner basketball player, is also completing an internship at Bath Iron Works this summer. Congratulations Zach!
Hannaford
Prof. Jain, Prof. DeWitt (not pictured) and visiting Prof. Cetin took the Graduate Logistics class to visit one of the best run distribution and transportation centers in Maine, the South Portland Hannaford Distribution Center and Transportation Offices. Samantha Pease (LSS '12, Delhaize Group International Graduate Trainee Program) helped lead the group, including several underclassmen, for the day. The tour gave the students an insight into the daily distribution center operations for a leading supermarket chain like Hannaford. This tour was undertaken as part of the graduate course requirements for BA546 – Fundamentals of Logistics in Global Supply Chains.
NESCON 2013
With faculty support from Professor Jain, International Business and Logistics students, ranging from freshmen to juniors, attended the New England Supply Chain Conference Expo on October 6-7th. NESCON, organized by the Institute of Supply Management (ISM), Council of Supply Chain Management Professionals (CSCMP), and the Association of Production & Inventory Control Society (APICS), allowed students to participate in educational seminars, listen to distinguished keynote speakers, and network with Supply Chain and Logistics professionals, including representatives from W.B. Mason, Oracle, and Cubist Pharmaceuticals. Along with resume workshops, educational seminars, and vendor booths, students learned about best practices from supply chain professionals. Dean Maier represented the Graduate Program, distributing brochures and pamphlets while explaining the graduate ONLINE and ON CAMPUS program to interested professionals looking to expand their educational background.
Students were able to attend the conference with generous support from the Student Business Logistics Association, the Student Government Association, and the Loeb-Sullivan School of International Business and Logistics. Through these organizations, students are able to take advantage of hands-on learning opportunities both in the classroom and with industry professionals.
Before and After The Jump
LSS Grad school students participated in the Ship Jump this year for the first time. Ship Jump has a long tradition at MMA for the incoming undergraduate freshman. This year the Grad students got in all of their practice at the pool and joined the rest of the Orientation students for the jump. While they may look a little apprehensive in the "Before" picture, the "After" picture reflects the excitement of the experience in everyone's eyes. (Photos by Joseph Maier)